Nov 25, 2017 09:17 AM Central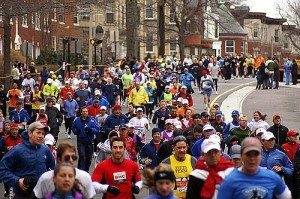 What are Essential Oils?
Essential oils are natural aromatic compounds found in the seeds, bark, stems, roots, flowers, and other parts of plants. An essential oil is obtained by careful steam distillation, but also through cold pressing, of the plant. The purest essential oils are far more powerful than the botanicals from which they were extracted because the plant's properties are so concentrated.
How do you use Essential Oils?
Essential oils can be applied topically, used aromatically, and/or ingested (if applicable). I will explain how each oil should be used:
Peppermint Oil has many uses for the athlete:
Peppermint Oil may support your performance during exercise.
Supports gastrointestinal system comfort*
Promotes healthy bowel function*
Enhances healthy gut function*
Maintains efficiency of the digestive tract*
Supports normal digestion*

May support performance during exercise*
Take a long, hard sniff of peppermint to increase clarity and focus during a long workout. Wake yourself up from a "bonk" with your sniff as you stimulate your senses
Mix 3 drops of vitality peppermint oil in 8oz of water and drink. You can also add drops of the oil in a water bottle to prolong the effects.
I diffuse peppermint oil in my home to re-energize and to invigorate before adventures.
PanAway Oil
is a favorite of mine!
PanAway is great to keep on hand and use during a workout. This is a special blend of 4 oils- wintergreen, clove, peppermint, and helichrysum. It contains methyl salicylate in the wintergreen oil. Apply to neck and back for a soothing aromatic experience. The clove oil has a high concentration of eugenol, Apply anytime for a soothing and stimulating aromatic
experience.
Lemon Oil
offers several benefits for athletes:
May support the digestive system*
Supports overall well-being*
Lemon oil helps to refresh and awaken the senses.
Lemon Essential Oil is made from the rind of the lemon, rather than the fruit. Therefore, it does not contain the acid that the juice does.
Thieves Oil is truly an amazing oil:
Thieves Vitality essential oil blend contains Eucalyptus Radiata essential oil, which may help support a healthy respiratory system when taken as a dietary
supplement*
May contribute to overall wellness when taken as a dietary supplement*
Supports healthy immune function* Who doesn't want that after a long workout and your immune system must be screaming.
Stress Awayhelps combat and eliminate pre-race stress and nervousness.
It is a combination of lime, vanilla, copaiba, ocotea, cedarwood, and lavender- all of which may help to reduce jitters.
With the cedrol found in cedarwood and the eugenol that occurs naturally in vanilla, Stress Away can help induce relaxation and reduce occasional nervous tension.
Rub 2 drops on your hands before a race to alleviate pre-race jitters.
Rub 2 drops behind your ears and on the back of your neck to promote relaxation.
Lavender Oil
is said to be the universal oil due to its infinite uses:
Diffuse Lavender for a comforting and calming scent
Unwind by adding a few drops to a nighttime bath or on your neck during excercise
Diffuse for a fresh, clean scent and to eliminate odors
Athletes sometimes find it difficult to sleep after a race or hard workout, Rub 2-3 drops behind the ears at night to promote restfulness.
Purification Oil is very versatile:
Athletes are no strangers to "feet and seat" issues. Apply 2-3 drops to the soles of the feet, or spray on "seats "as well if you will be on a saddle all day to keep thongs fresh.
Purification helps freshen eliminate odors with its unique combination of citronella, lemongrass, lavender, rosemary, tea tree, and myrtle essential oils. Make a spray of 4 drops of Purification and a cup of water in glass spray bottle to remove odors and deodorize.
Athletes can make a spray from 1/2 cup of water, 1/2 alcohol, and 4-5 drops of Purification to enjoy the outdoors annoyance free. This is a non greasy, pleasing smell, formula.
Rub 2 drops into your underarm area to smell fresh. Who wouldn't like that?
Melaleuca alternifolia (Tea Tree Oil) is a popular oil :
Apply to feet and toenails when needed
Includes the naturally occurring constituents terpinene-4-ol, gamma terpinene
and alpha-terpinene
Here's how to get Young Living Essential:
You would want to purchase the premium starter kit because this would include ALL of the oils mentioned above, plus 3 more. The starter kit includes the Everyday Oil Collection (lavender, peppermint, tea tree, lemon, frankincense, Thieves, Purification, Joy, Stress Away, and PanAway). Citrus Fresh, a bonus oil, would also be included. In addition to the oils, a home diffuser, a pocket reference book- Essential Oils at a Glance, an AromaGlide roller filament, 10 different sample packets of oils, and two NingXia Red samples (natural energy drink) come with the premium kit. As a wholesale member, you would receive a 24% discounton ANY future purchases. There are SO many more different oils you can purchase individually after experiencing the Everyday Oils.